Bluetooth® Portable Speaker Live the "outdoor adventure" with your music!
IP64-certified wireless speaker: water- and dust-resistant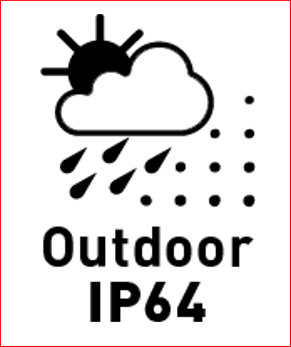 IP64-certified wireless speaker: water and dust-resistant.
Perfect for enjoying all of your activities and outdoor adventures with your favorite music! Your music will follow you anywhere, without missing a beat: at the skate park, at the beach, on your bike trips, while you're skiing!
Single-unit Bluetooth® 2.1 + EDR (A2DP) stereo speaker.
Compatible with Bluetooth® devices: mobile phones and smartphones, tablets, computers (Windows® Vista / 7 / 8, Mac® OS X®).
Includes on-the-go charging gear. Speaker provides more than 14 hours of battery life.
Enjoy audio clarity: two active wideband drivers, plus one passive bass-amplifying driver.
Rubber end-pieces for enhanced shock resistance, and double protective grille for drivers.
Built-in microphone lets you enjoy hands-free calling.
On/Off switch and 1/8" / 3.5 mm mini-jack Line input plug.
Easily connect WAE Outdoor BTP04 speakers to one another, using the included USB cable.
Secure tether hook, wrist-strap, snap hook.
Standard-size screw thread for easy mounting (examples: tripod, suction cup mount, bike mount, etc.).
Bluetooth® receiver mode lets you use the Bluetooth® function with a stereo system (or any other audio system). Listen to the music stored on your Bluetooth® device on your favorite stereo!
Technical specifications
Technical specifications
RMS power: 2 x 2 W RMS
Peak power: 8 W
Frequency response: 130 Hz - 20,000 Hz
Speaker dimensions: 61 (H) / 151 (W) / 61 (D) mm
Weight: 280 g
Rechargeable 3.7 V 1200 mAh Li-ion (lithium-ion) battery
Magnetically-shielded system won't disturb your surroundings
RoHS compliant product
Installing the audio system
Just turn on your Bluetooth® on your smartphone and connect with the speaker, and you're ready to enjoy your music.
Install the WAE app and control your speaker at your fingertips. Turn the volume up or down on your speaker from your smartphone, enable audio effects and pre defined equalizer.
Enjoy a huge database of webradios and a funky player to listen to your favorites iTunes® playlist.
Thanks to the device selection icon you decide where the sound needs to go, either on your smartphone or to the WAE* speaker.
Bluetooth® receiver function
Stream your music via Bluetooth® to a stereo system, or any other audio system equipped with a line in connector.
Box contents
Single-unit IP64 Bluetooth® speaker
USB charging cable and 1/8" / 3.5 mm male mini-jack Line output connector cable
110 / 220 V power plug with USB port
Wrist-strap
Snap hook
Warranty certificate and User Manual